Films with Dance and Romance: These award winning films were produced by Nani Film.
Marianne's 2nd feature film "Prince Harming" (USA, 2018) a drama about love gone very wrong is currently in the festival phase. Trailer: watch here! Facebook page.
FESTIVAL CIRCUIT
Sept. 2018: "Prince Harming" was selected as semi-finalist in the prestigious Moondance International Film Festival (Sept.2018)
Oct. 2018: Prince H. won Best Women's Film at the CICFF (Calcutta International Cult Film Festival) CICFF is an official member of the British Film Institute, in London, and of the Film Society of Lincoln Center, in New York.
Dec. 2018: Prince H wins Best Drama at the Switzerland International Film Festival.
Jan. 18th 2019: Prince H has World Premiere @Big Apple Women's Film Festival in NYC!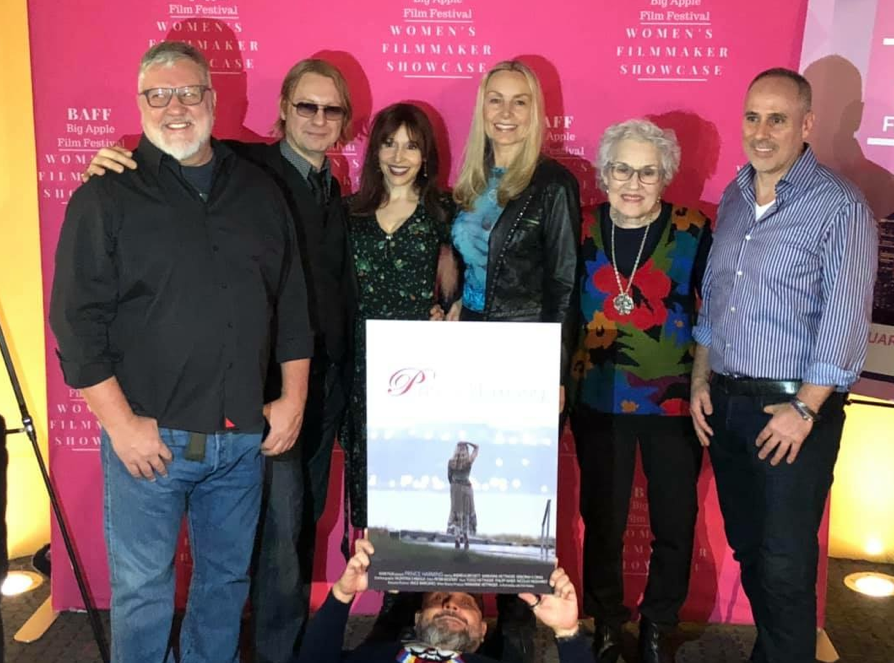 Feb. 2019: Prince H. is semi-finalist at the Eurasia International Film Festival.
March 2019: Marianne Hettinger wins the Mary Austin Award in Excellence in Direcing @Idyllwild International Film Festival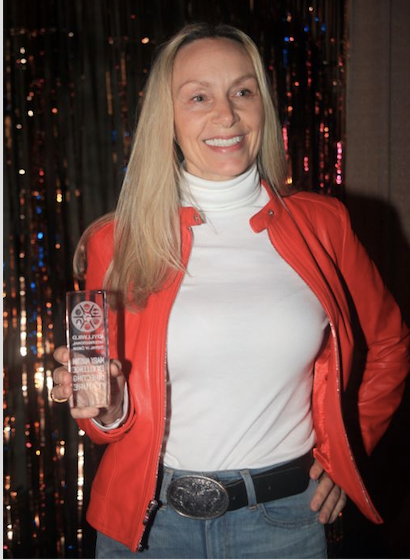 MORE ABOUT THE FILM
Director/Writer/Producer: Marianne Hettinger
Genre: Drama
Runtime: 1 hour, 55 min.
Tagline: Be careful who you wish for.
STORY
An immigrant New York woman in love with an Olympic skier, who was her teenage celebrity crush, finds herself desperately holding on to the relationship a it goes from bad to worse...
FILMMAKER'S STATEMENT
"Prince Harming" is based on a true story and deals with the escalation of abuse in a relationship and its eventual overcoming it. We believe this film deserves a large audience because the timeliness of its topic of relationship abuse. It's told with a good portion of humor as the protagonist fights her way all theway to the bottom in a relationship that started out as a dream come true. Furthermore we want to contribute to the growing positive visibility of women caught in domestic violence situations as we join the #MeToo and #TimesUp movement. "Prince Harming" features strong women in front of and behind the lens, which, in Hollywood, are still far and few between.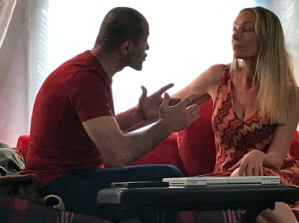 Andreas Beckett as "Max Bauer" and Marianne Hettinger as "Victoria Timm"
Marianne Hettinger and Michael Dale
In Marianne Hettinger's first feature MANGO TANGO (USA, 2009), a New York City dance teacher is driven to therapy by the increasingly neurotic men she meets. A vacation in the German Alps turns out to be her biggest challenge yet…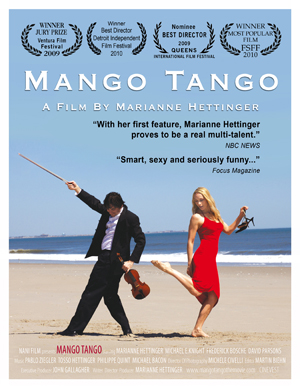 MANGO TANGO (2010, USA)
Romantic Comedy Feature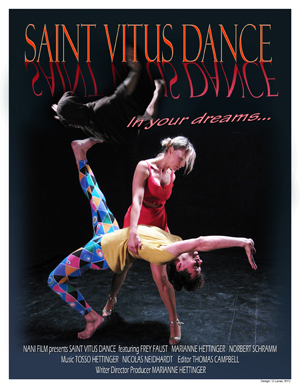 SAINT VITUS DANCE (2011, USA)
Short, drama, music, dance
Saint Vitus Dance (USA, 2011) , a 11-minute short film, is about a struggling NYC dancer, who is late for an audition for her dream role in a new Broadway Show. When she gets stuck in a traffic jam, she decides to make a run for it…
The 64-minute music documentary Strad For Lunch about the young German born violin virtuoso Oscar Bohorquez' US concert recital debut on a 3 million dollar Stradivarius violin on March 7Th, 2012 at the WPM Concert Hall in New York City, with an all-Argentinian program with works by Ginastera, Ugarte, Beytelmann and Guastavino. The film consists of a 15-minute portrait of the artist that includes an interview and a tango dance followed by the 45 minute live concert and had its successful world premiere with a live tango performance by director/ writer Marianne Hettinger at the Liliom movie theater in Augsburg, Germany, on August 27th, 2012.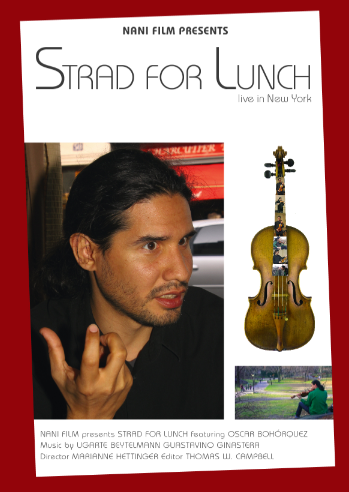 STRAD FOR LUNCH (2012, USA), a Music Documentary Feature
MARIANNE'S NEW TALK SHOW: HALLO NEW YORK (2013, USA)
Host/ Creator: Marianne Hettinger
Youtube channel: HALLO NEW YORK
Produced by: vidFame LLC, Nanifilm
Format: Informal, in the style of "Talk Stoop", in Marianne's apartment. Languages spoken: English and German
Guests: Inspiring people who are "living the dream", famous and not-yet-famous.
Filmmakers Marianne Hettinger and Wolfgang Gabler take on a subject about an urgent matter: the homeless in Washington DC, our nation's capitol, the richest country in the World. More info on facebook.
HOMELESS in WASHINGTON ( short docu, USA, 2014)
Marianne's first film: "Shenanigans Point" (short film, USA, 2005)
Available DVD:
MANGO TANGO, original Collector's Edition DVD
in stock, ships immediately in the USA and Canada:
US$ 20.00 (one DVD)
US$ 05.00 (shipping and handling)
Total: US$ 25.00
Payment:
For payment per paypal, contact Marianne Hettinger.