Films with Dance and Romance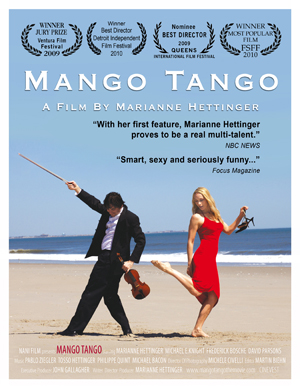 MANGO TANGO (2010, USA)
Romantic Comedy Feature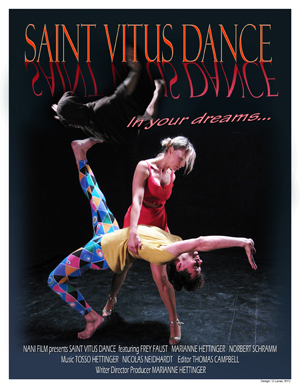 SAINT VITUS DANCE (2011, USA)
Short, drama, music, dance
In Marianne Hettinger's first feature MANGO TANGO, a New York City dance teacher is driven to therapy by the increasingly neurotic men she meets. A vacation in the German Alps turns out to be her biggest challenge yet…
Saint Vitus Dance is about a struggling dancer in Manhattan, who is on her way to a dance audition for her dream role in a new Broadway Show. When she gets stuck in a traffic jam, she decides to make a run for it…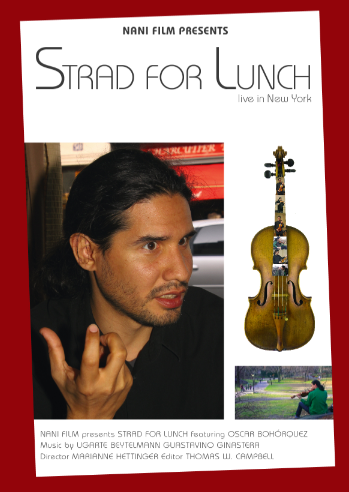 Music Documentary Feature
The 64-minute music documentary Strad For Lunch about the young German born violin virtuoso Oscar Bohorquez' US concert recital debut on a 3 million dollar Stradivarius violin on March 7Th, 2012 at the WPM Concert Hall in New York City, with an all-Argentinian program with works by Ginastera, Ugarte, Beytelmann and Guastavino. The film consists of a 15-minute portrait of the artist that includes an interview and a tango dance followed by the 45 minute live concert and had its successful world premiere with a live tango performance by director/ writer Marianne Hettinger at the Liliom movie theater in Augsburg, Germany, on August 27th, 2012.
These award winning films were produced by Nani Film.
MARIANNE'S NEW TALK SHOW: HALLO NEW YORK (2013, USA)
Host/ Creator: Marianne Hettinger
Youtube channel: HALLO NEW YORK
Produced by: vidFame LLC, Nanifilm
Format: Informal, in the style of "Talk Stoop", in Marianne's apartment.
Languages: English and German
Guests: Inspiring people who are "living the dream", famous and not-yet-famous.
HOMELESS in WASHINGTON ( short docu, USA, 2014)
Filmmakers Marianne Hettinger and Wolfgang Gabler take on a subject about an urgent matter: the homeless in Washington DC, our nation's capitol, the richest country in the World.
More info on facebook.
Available DVD:
MANGO TANGO, original Collector's Edition DVD
in stock, ships immediately in the USA and Canada:
US$ 20.00 (one DVD)
US$ 05.00 (shipping and handling)
Total: US$ 25.00
Payment:
For payment per paypal, contact Marianne Hettinger.